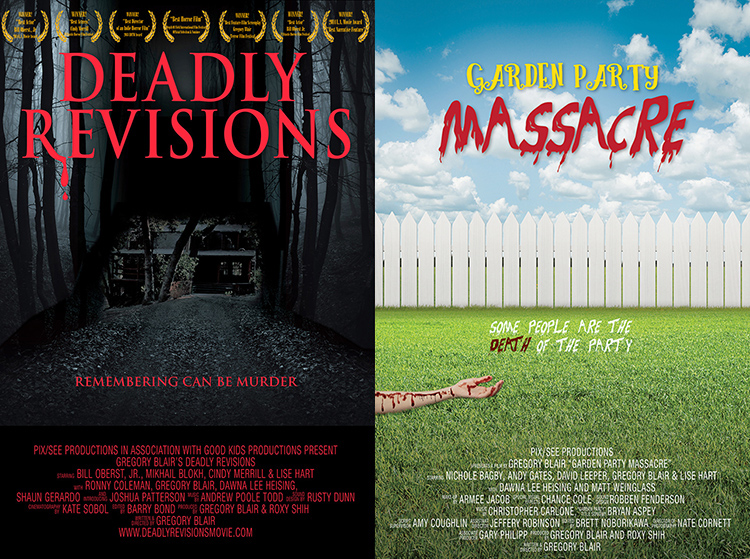 Hope everyone's year has provided some great memories! Here are a few of mine...

January and February were filled with buckets of auditions...as well as playing a great role in the premiere reading of KNIFE TO THE HEART--a new play by Stan Zimmerman and Christian McLaughlin. I also put finishing touches on my screenplay for my next film GARDEN PARTY MASSACRE. Finally, on Oscar Sunday, Matchflick.com announced that DEADLY REVISIONS had won the Flicker Award for "Best Picture"! My first "Best Picture" win on Oscar Sunday!

March was the month I began assembling my team for GARDEN PARTY MASSACRE. I had meetings with my DEADLY REVISIONS co-producer Roxy Shih and KILL THE BABY's killer Director of Photography Nate Cornett who both happily came on board. I also did an interview for Howard Casner's Rantings and Ravings.

In April I was a guest on the Craig Avery Show (providing a quote for Bill Oberst, Jr.'s new book on acting). I also was busy with pre-production work in preparation for shooting GARDEN PARTY MASSACRE while DEADLY REVISIONS had its U.K. premiere at the Dark Scream Film Festival!

May was very exciting! First, I shot a fun cameo role in KILL THE BABY. Then, the poster and a teaser trailer for Sam Ghazi & Cheryl Compton's short film HE WAITS dropped...just before we learned it was accepted to the Fantastic Horror Film Festival along with my screenplay for GARDEN PARTY MASSACRE! Then, to top it all off, the news broke that DEADLY REVISIONS had a release date at last! It would be available on VOD, DVD and Blu-ray the end of September--the perfect start to the Halloween Season!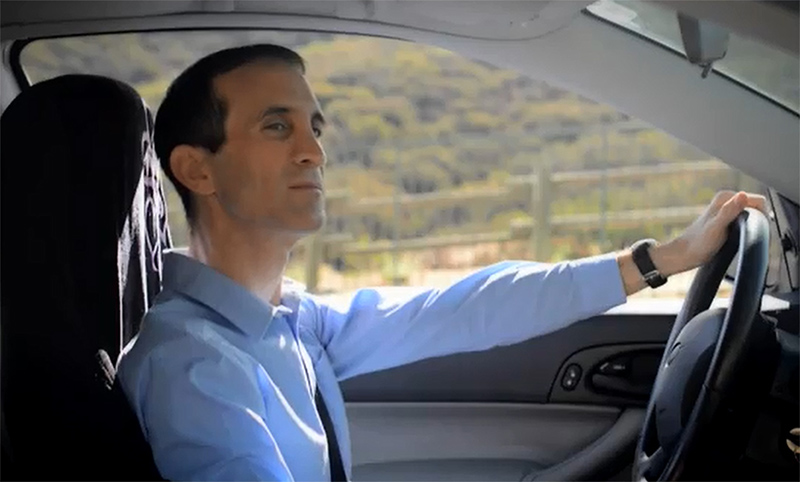 Me as the titular character in the creepy short film HE WAITS
In June I shot a funny role as a doctor in the crazy webisode STUPID BITCH and several incarnations of a banker (alive, walking dead, kidnapped, etc.) for the feature documentary THE MONEY CHANGERS.
In July, we had our first table read of GARDEN PARTY MASSACRE! Everyone was just as hilarious and perfect as I knew they'd be!
In August, I shot ON THE ROCKS where I played Howard, the annoying neighbor—based on my role in the short film of the same name and I discovered I was nominated for "Best Actor in a Short Film" for HE WAITS in the Fantastic Horror Film Festival!
September was all about prepping for GARDEN PARTY MASSACRE...although I did take time to perform in a Stan Zimmerman produced comedy showcase and celebrate the release of DEADLY REVISIONS which you can now buy or rent here!
Then...October! With a killer cast and crew, blond hair and buckets of blood I filmed GARDEN PARTY MASSACRE in two frenetic, fun-filled weeks! Watching the dailies had me cracking up every day! This film is going to be hilarious!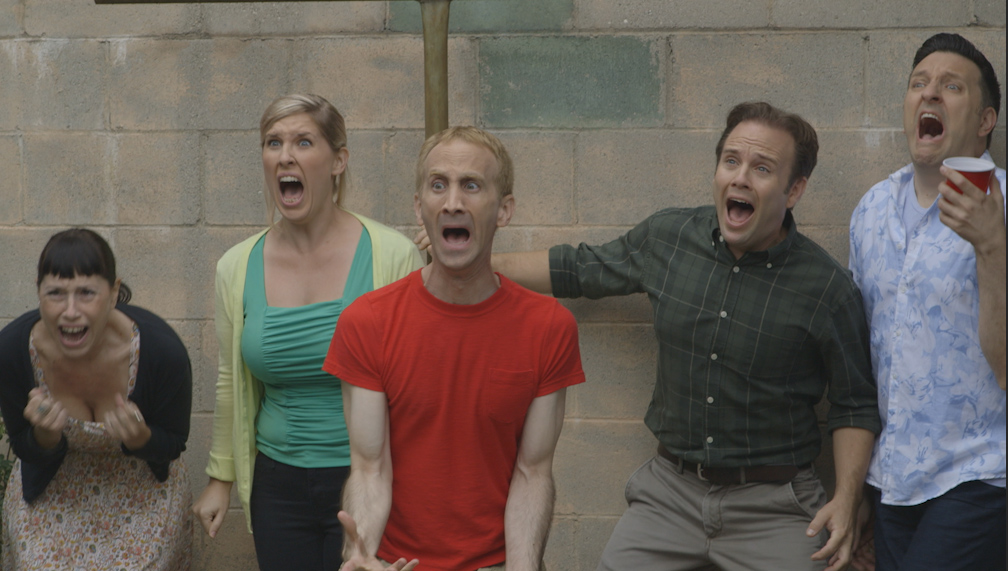 The guests of GARDEN PARTY MASSACRE.
November, began with the FANtastic Horror Film Festival where GARDEN PARTY MASSACRE won the top honor in the screenplay competition! A very good omen of things to come, I hope! Then I had the pleasure of helping out on the wacky season finale of the hit webseries CHILD OF THE SEVENTIES where I met many cool people including Judy Tenuta and Randy Jones (the original Village People cowboy)!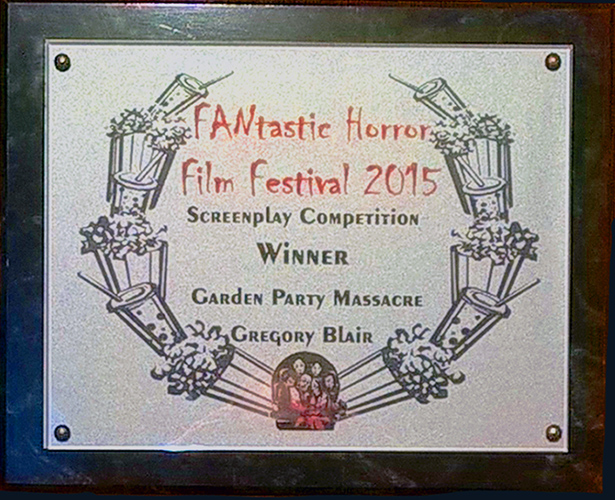 The FHFF award for GARDEN PARTY MASSACRE

In December, I left everything behind for a month in New Zealand. Family, scenery...and, of course, Hobbits! You can read more about it on my blog. And while I was there, I learned HERETIKS--the movie based on my award-winning screenplay "The Sisterhood"--began and completed production with HOWL director Paul Hyett!

Finally--as always--I send warm wishes to all you who stumble upon these words. Kind words and deeds become more and more meaningful as our world struggles with the harm that hate and greed breed. So be the balm. Be part of the healing. Spread love and warmth wherever you go.

And be fabulous!


~Gregory