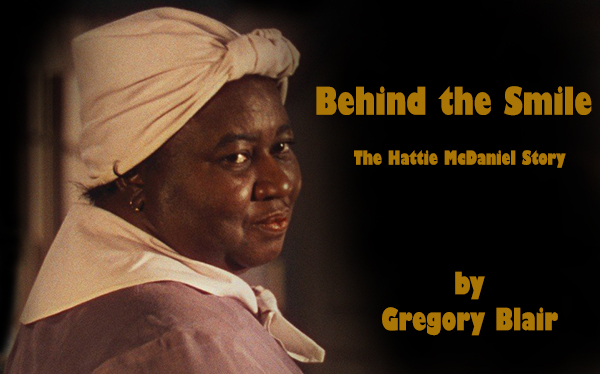 Cameras to roll on the film version of another one of my screenplays!
A
nother year of triumphs and tragedies. I always like to focus on the positive, so here is a run-down of my artistic-related accomplishments for this spin of the earth. It helps to remember in a year where I often felt like I wasn't being productive enough...
January started off with Deadline announcing the news about my screenplay BEHIND THE SMILE: The Story of Hattie McDaniel. Read about that here. The first official trailer for Adam Steigert's THE HORRIFIC EVIL MONSTERS was unleashed (you can watch that here) and I began working on a new script about alleged psychic Edgar Cayce.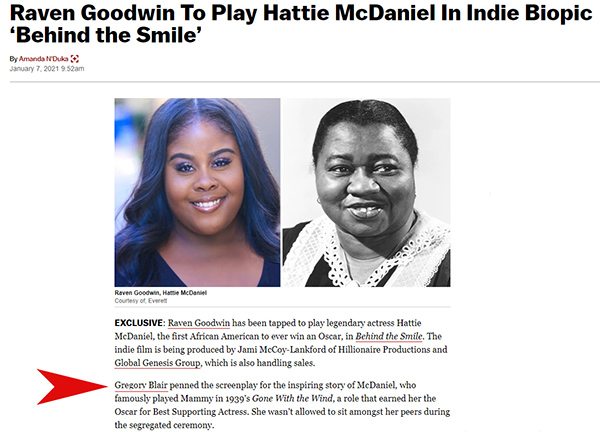 Deadline announcement about BEHIND THE SMILE
February brought the debut of DINNER DETECTIVE--a short film I wrote for (and starring) Amber Dawn Fox. I also finished THE PROPHET OF SLEEP, my Edgar Cayce biopic. And, as always, I did a bucketful of screenplay consulting.
March meant writing a screenplay adaptation of Francis Metzman's comedy mystery novel THE CHA-CHA BABES OF PELICAN WAY and getting tapped to write a new biopic about Luther Vandross.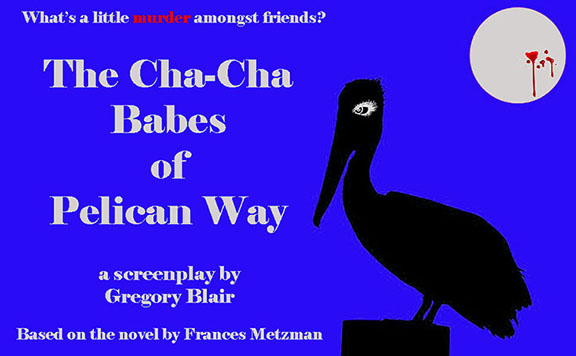 Mirth and murder in THE CHA-CHA BABES OF PELICAN WAY
In April, I completed several screenwriting consulting jobs and began turning my research on Luther Vandross into a screenplay. I was also cast in a new, hilarious short film ENVELOPE.
May brought a SHOUT OUT L.A. interview which you can read here and I completed the new biopic THE VELVET VOICE: The Story of Luther Vandross. I was then engaged to write a biopic about Jimmie Walker of Good Times fame. And the World Premiere of THE HORRIFIC EVIL MONSTERS went down. You can watch the post show Q&A here.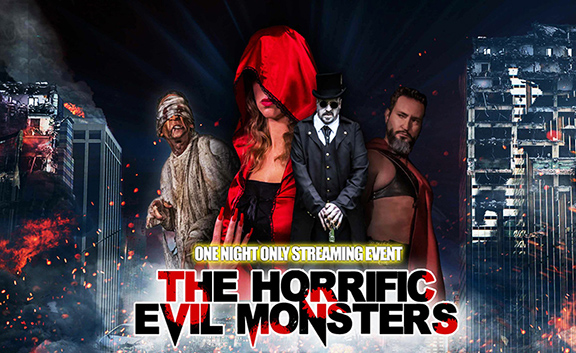 The World Premiere of THE HORRIFIC EVIL MONSTERS
In June, I shot my scenes for Mikey Mulhearn's ENVELOPE and finished the latest biopic DYN-O-MITE!: The Jimmie Walker Story. And my limited webseries TOOLS, NOT RULES: Tips for Screenwriters made its debut on Jason Horton's YouTube channel (watch the intro here).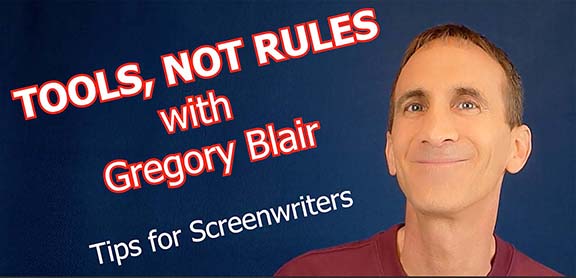 Yup. I did a YouTube webseries for screenwriters!
July found me contracted to write a pilot for a new animated musical series about a jazz band of insects called BOOGIE BUGS. We also finally got shoot dates for the Covid-delayed film THE FAMILY MAN--where I play the lead villain, Eli Jackson.
In August, I finished the pilot for BOOGIE BUGS and wrote a new thriller feature script called DUPLICITOUS for actress Jenn Nangle. I also won a 2021 Impact Award from The Most Important Films International Film Festival for my horror/mystery screenplay CONVENIENT LIVING!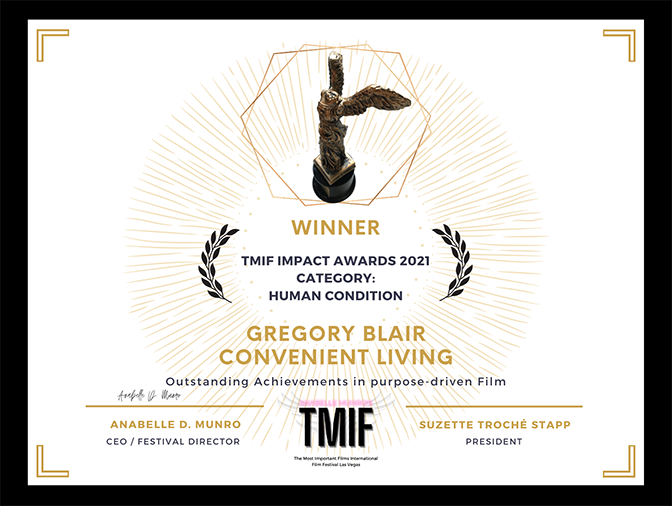 2021 Impact Award for CONVENIENT LIVING
September included being a judge for the 2021 Universe Multicultural Film Festival and appearing on The Sherwood Shakeup (viewable here). I also co-wrote a short thriller Favorite Son with Larry Altmayer and rewrote a script (renamed The Desperate) for Chase Dudley. Then I was on set for Romane Simon's THE FAMILY MAN.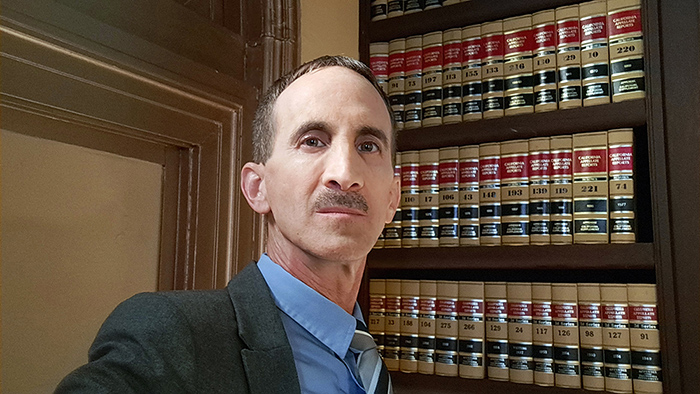 Behind the Scenes on the set of THE FAMILY MAN
In October, I began work on the 10-year anniversary cut of DEADLY REVISIONS as well as cast interviews for DVD and Blu-ray bonus features. (Watch the brand new trailer here.) I also appeared on Nikki Guzman's Mystic Meals Podcast, which you can listen to here. And I finally joined the TikTok throng. (You can follow me at @thegregoryblair.)
November meant focusing on a biopic about Dusty Springfield that I was pegged to write, finshing the new cut of DEADLY REVISIONS and doing some freelance writing consulting in between the two.
December gifts included a (re)Search Your Trash interview about my work on BEASTS OF THE FIELD which you can read here, an interview on Ryoichi's Instagram talk show which you can watch here and finishing the Springfield script, which is currently titled LOVE, DUSTY.
To wrap up--as always--I send warm wishes to all you who have stumbled upon this recap. Be kind to yourselves, to others and to animals. Do helpful, constructive things. Be patient. Be grateful. Spread love and warmth wherever you go.

And be fabulous!
~Gregory
P.S. Get ready come see me LIVE, on stage
in THE ROLE OF A LIFETIME...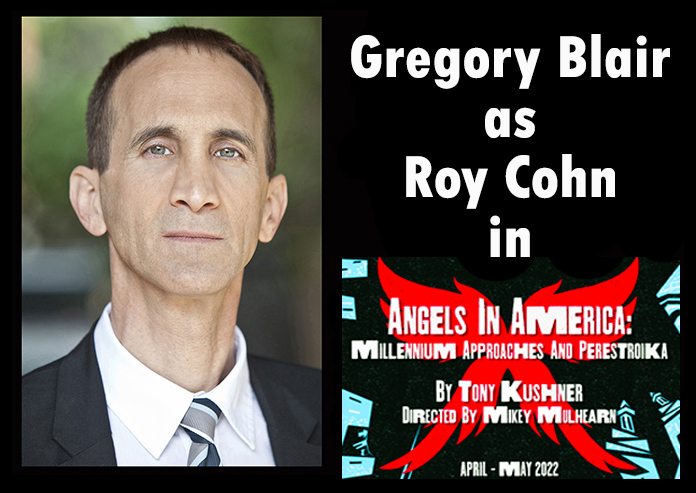 THREE WEEKENDS ONLY! April 22nd through May 8th. Details here.
For links to my movies books and more: